Learn to Row 2016 Begins in April!

Those interested should send a message to rondoutrowingclub so we can keep a list, send important updates, and respond to questions.
On April 30th, 9am- 4 we will hold our earliest-in-the-season ever LTR at the West Point Facility. This means participants will have the benefit of erg training followed by practice in the tanks..all in one day in West Point's top notch facility. (We'll do the swim tests later at the Y; On water sessions on the Rondout Creek will follow not long after.)
You may enroll by going on the Regatta Central site: www.regattacentral.com
After you're on Regatta, click 'clubs' and scroll down to Rondout Rowing Club to enroll in the April 30th LTR. The cost $150.
*This program includes a coached row on the Rondout Creek on a date scheduled at the end of the program.
If you have any questions, please contact us at rondoutrowingclub.com
Thanks for your interest!
This is a 'tank'. Much more impressive when you see it for real…and they have two of these at West Point!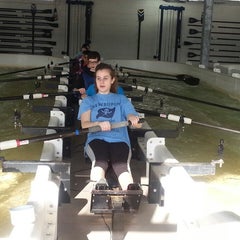 The tank in action https://www.youtube.com/watch?v=Y48WqQtrIp0
Attachments area
Preview YouTube video The Rowing Doc at West Point